LAWS7855 Electronic Commerce Law
The Law of Electronic Commerce deals with Australian and international approaches to regulating commerce in cyberspace and the Internet, and with electronic contracts issues. This course addresses legal issues relating to the introduction and adoption of various forms of electronic commerce. Whether it is undertaking a commercial transaction on the World Wide Web, sending electronic communications to enter into commercial arrangements, downloading material subject to copyright or privacy concerns about our digital personas, legal considerations apply. Parties must consider the risks of electronic commerce, whether electronic writing and signatures are equivalent to paper writing or wet ink signature; which jurisdiction and which law governs a dispute between parties in different countries where the servers may be in various locations.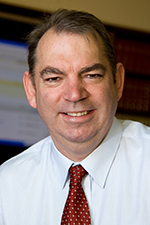 Dr Alan Davidson is a Fellow of the Institute of International Banking Law and Practice, and is the only Australian on the Council of International Standby Practices. Dr Davidson's PhD is in the field of international banking law, specifically Letters of Credit Transactions. His publications have appeared in the Australian Law Journal, the Journal of International Banking and Financial Law, the Journal of Commonwealth Law and Legal Education, the International Trade Law Annual and the International Commercial Law Journal. Dr Davidson is the Australian representative of the Asia Advisory Council of the International Institute for Banking Law and Practice. He is a member of the International Chamber of Commerce (ICC) and was the Australian delegate in Paris for the final vote on the UCP600. He is in demand as an international speaker for the Institute including in Beijing, Hong Kong, Washington, New York, London, Singapore, Mumbai, Dubai, Seoul and Shanghai.
Topics covered include:
intellectual property aspects
cybercrime
payment systems
domain name usage and disputes.
Course information
Course code
LAWS7855
Dates
18, 19, 25, 26 March 2017
CPD
This course may also be taken as a CPD course or a non-award course.