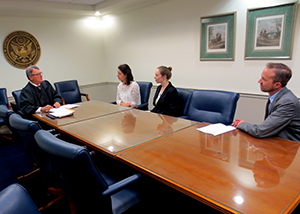 UQ Law students, Jamiee O'Brien and Madeleine Ryan recently traveled to Knox County with the assistance of funding through Endeavour Mobility Grants. Ten such Grants were secured by Dr Alan Davidson, supporting UQ students' study experience at the UN, New York, Vienna and the UK in addition to Tennessee. Endeavour Mobility Grants support Australian Students to have an overseas study experience that contributes to their Australian qualification.
Both students are studying the comparisons in the justice system to domestic violence in Queensland and in Tennessee, and being supervised by UQ Law Professor Heather Douglas.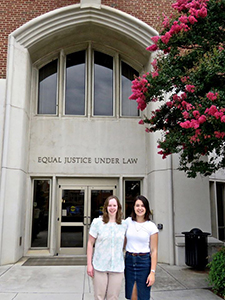 Jamiee and Madeleine spent time with the District Attorney's office, Public Defenders, Legal Aid, judges, social workers and counsellors. They had the opportunity to view a variety of court matters and tour the local juvenile jail.
"The experiences have all been valuable in giving us a general understanding of the Criminal Justice System, particularly access to justice issues."
"Everybody we have interacted with has been hospitable and generous with their time - they have gone above and beyond to welcome us and support our learning." said Jamiee.
Associate Director of the Institute for Professional Learning at the University of Tennessee, Brad Morgan helped facilitate the student visit in Tennessee.
Brad said, "It was our privilege to have Madeleine and Jaimee join us here in Knoxville for a couple of weeks. They were professional in every aspect of the word … they were able to not only learn about the legal profession here, but also to enjoy some of the cultural offerings of the region."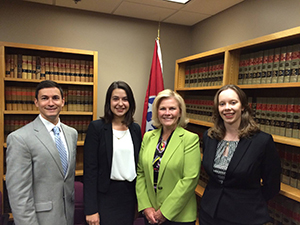 "In terms of actual exposure to the legal system, we began their time here with a few introductory sessions with professors here at University of Tennessee, including an overview of the American legal system, an overview of American criminal law, and a robust presentation on domestic violence law. Throughout the remainder of the next two weeks, the students spent multiple days in the District Attorney's Office learning about the work that goes on there and shadowing lawyers in court, as well as spending time shadowing the lawyers in the Public Defender's Office. Additionally, we were able to meet with both federal and state judges, having the rare opportunity to sit in chambers with both state and federal judges to hear from them directly about what they do and how they do it. Those meetings took place prior to the students sitting in on court proceedings, and I think that it gave them a solid background on what was taking place in the courtroom. There were also a couple of days spent with the local legal services provider in general sessions court, which is the most informal court where a lot of action goes on and provided a great contrast to federal court in particular."
Find out more about Endeavour Mobility Grants.