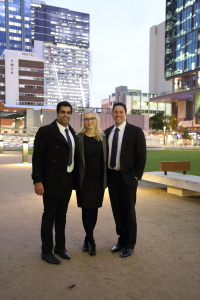 Three of the eight finalists for the Australian Law Awards' prestigious Law Student of the Year prize are some of UQ's finest.
Current students Jordan English and Milan Gandhi and recent graduate Camille Boileau were shortlisted for their academic, community and legal work.
Head of School and Dean of Law Professor Sarah Derrington said it was gratifying to see UQ law students recognised at a national level.
"Once again, our students have demonstrated that they're among the cream of the crop," she said.
"It's wonderful to be so well-represented by our undergraduate students in this category. We're very proud of Camille, Jordan, and Milan."
Milan said he was surprised and elated with his nomination, which came from his employer, McCullough Robertson Lawyers.
"I'm very grateful to McCullough Robertson for the recognition," he said.
"Before working at McCullough I wouldn't have expected a law firm to recognise one of their casual student clerks."
Milan had nothing but praise for his fellow nominees and the entire UQ law cohort.
"The most exciting part is that I've been shortlisted alongside Camille and Jordan who are outstanding candidates," he said.
"Many of my peers are worthy of that shortlist. We could potentially fill the entire category with UQ students!
"The end result speaks for itself and it makes me exceptionally proud to be a UQ law student."
He credited UQ law staff for giving students opportunities to succeed.  
"There's so much talent here, but I also want to acknowledge the hard work of Professor Sarah Derrington, our lecturers and all of the support staff. They take care of us and give us access to so many opportunities and support services to help us excel."
Award winners will be announced at a gala dinner in Sydney on Friday 2 September.