Two UQ TC Beirne School of Law students fought their way to the grand final of the Australia and New Zealand Air Law Moot on 3-4 September.
Final year law students Nicole Brazier and Matthew Tsai travelled to New Zealand to go head to head with the University of Auckland.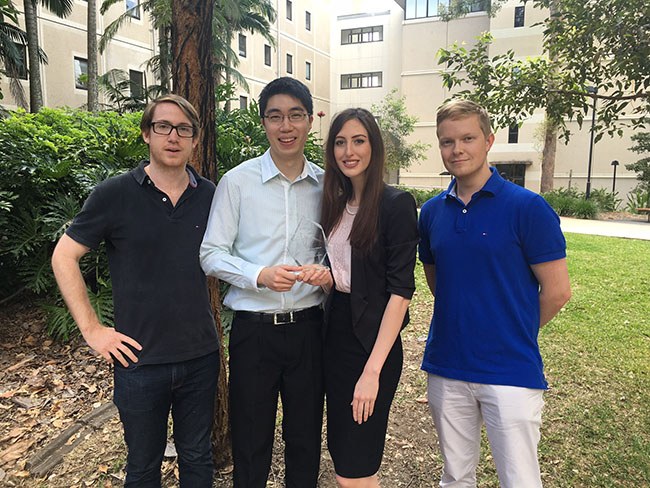 Coached by veterans from the 2016 International Air Law Moot team, Shane Montgomery and Nick Lindsay, the team finished in second place and were awarded Best Applicant Memorial.
Mr Tsai and Ms Brazier began their competition preparation in June. The moot was Mr Tsai's first ever, and Ms Brazier's first external moot.
The pair advanced to the final after competing in three preliminary moots and placing in the top two for their cumulative written and oral scores.
Ms Brazier said the team were considered 'underdogs' heading into the competition.
"We were competing against teams who had extensive experience in external mooting competitions, including former Jessup mooters," she said.
"Matt and I would definitely agree that we improved in each preliminary moot.
"We both relished the opportunity to showcase the depths of our knowledge, and it was thrilling to be put through our paces by many esteemed judges."
Although they didn't bring home the top prize, the team learned that His Honour Rt. Hon. Sir Edmund Thomas – former Judge of the Court of Appeal of New Zealand and the Supreme Court of New Zealand – voted in favour of their arguments.
Ms Brazier said the competition was a great opportunity to make new professional and social connections.
The team also acknowledged their coaches and other law school staff who helped them along their journey.
"We would like to thank our coaches, Shane and Nick, who worked with us on a regular basis and provided guidance and feedback on our written memorials and oral advocacy. We also want to thank Genevieve Murray, who helped organise practice moots and was wonderfully supportive through the entire process."
Closer to home, three other UQ moot teams made it to the finals of their respective competitions.
Hannah Anderson, Chris Clur and Anna John competed against the University of NSW in the Castan Human Rights Moot final in Melbourne on 31 August. Coached by Associate Professor Tamara Walsh and Mr Robert Mullins, the team placed second.
The AAT Moot Team, composed of Gillian Gehrke, Bethany King and Edward Watson and coached by Associate Professor Peter Billings and Erin Gourlay, were semi-finalists earlier this month. The team also knocked out fellow UQ students Gemma Galloway, Jane Hall and Sophie Ryan in the AAT quarter-finals.
The Animal Law Moot Team, led by Claire Van der List, Matthew Paterson and Julius Moller and coached by Dr Justine Bell-James, were narrowly defeated by one point in their semi-final against Bond University on 18 September.