The University of Queensland Law Society has announced a new student award named after the TC Beirne School of Law's Head of School and Dean of Law, Professor Sarah Derrington.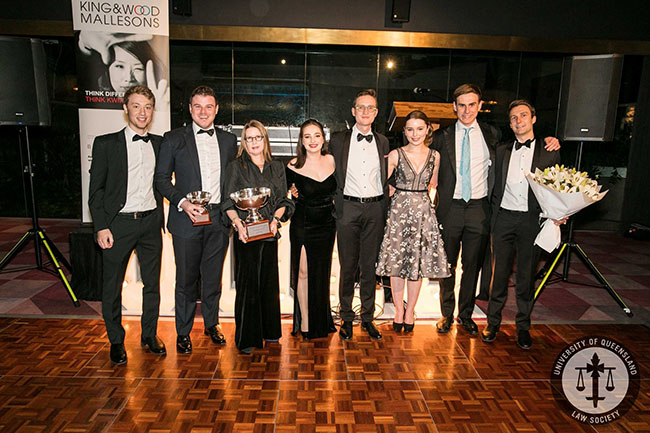 The Professor Sarah Derrington Perpetual Trophy for Leadership was created in honour of Professor Derrington's dedication to the School community.
UQLS President Emily McClelland said the trophy would be awarded annually to a law student who had made an outstanding contribution to the student body and the School that would otherwise go unrecognised.
"Candidates must display service to others, leadership and initiative, three qualities that Professor Derrington undoubtedly possesses," Ms McClelland said.
Ms McClelland said Professor Derrington deserved special recognition for spearheading the School's fundraising campaign for the reimagination of Forgan Smith.
"The new Law School was built thanks to Professor Derrington's tireless work, impressive sales skills and formidable leadership," Ms McClelland said.
"While most buildings at UQ are fully funded, the refurbishment could only go ahead if a significant proportion of funding was secured in donations.
"Professor Derrington immediately set off to secure millions of dollars in sponsorship and donations, flying around Australia and the world to make connections with alumni.
"She secured sponsorship from corporations such as the Star Group the UQ Endowment Fund and donations from notable alumni including Dr John Story AO, the family of Dr Norman Katter, and prominent legal practitioners from around the world.
"She has also given tours of the Law School after hours to visitors from firms across Brisbane."
As a fourth-year law student, Ms McClelland said she had witnessed many examples of Professor Derrington's commitment and leadership.
"Her passion for the law school community was demonstrated to me when she took a few days out of her busy schedule to unpack books in the moot court to ensure that everything was perfect when students arrived," she said.
"Additionally, Professor Derrington has been unwavering in her support for the UQLS and its activities this year and is always willing to offer her assistance and advice.
"This award is a gift from the UQLS and student body as a symbol of our appreciation for the lasting impact Professor Derrington has made and will continue to make on students at TCB. Her hard work has not gone unnoticed."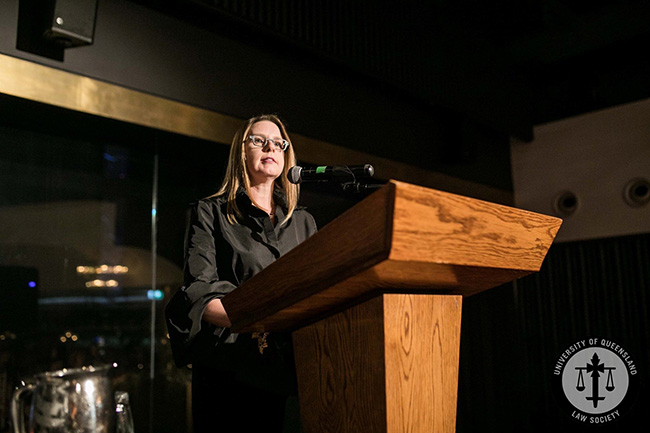 Students from the UQLS and the 2016-2017 Leading as Lawyers cohort presented the trophy to Professor Derrington at the recent UQLS Law Dinner at Cloudland.
It will be awarded for the first time in 2018.