Four 2017 Honours graduates from The University of Queensland's TC Beirne School of Law have been named University medallists.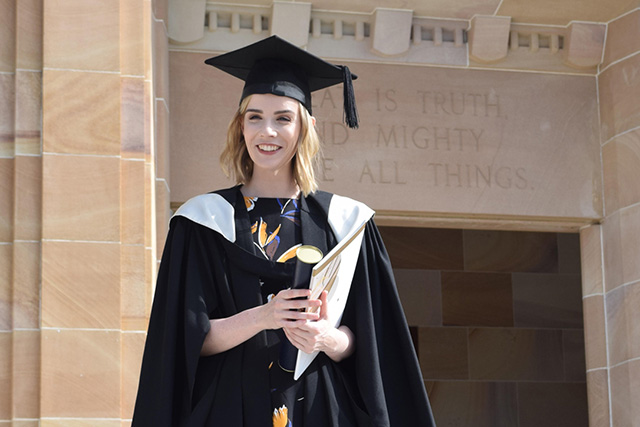 University medals – one of the highest honours on offer at UQ – are awarded to eligible graduates from the previous year who achieved outstanding academic results throughout their degree.   
Medallist Eloise Gluer (Bachelor of Laws (Honours)) said she credited much of her success to the collegial culture at the TC Beirne School of Law. 
"I had access to excellent, supportive academic staff and a community of students with a real sense of camaraderie," she said.
"I didn't know many people when I moved to Brisbane from Toowoomba, but it was easy to make friends because of our small cohort and strong law society and events focus.
"The School also had great links to the profession. I had a lot of guest lecturers who were barristers or working for government, and there were plenty of professional networking opportunities."
During her time at UQ, Ms Gluer participated in the mooting program, worked as a research assistant, co-edited Pandora's Box – the annual academic journal published by UQ's Justice and the Law Society – and worked as a paralegal, an opportunity she secured through the BEL Student Employability Team.
Ms Gluer said she would advise UQ law students to form strong connections to help them excel.
"Engage with the academic staff, who are always so generous with their time, take advantage of co-curricular activities like mooting, and make sure you balance independent study and reflection with collaborative study sessions," she said.
Ms Gluer is interested in legal government work, constitutional law and civil regulation. Currently a Judge's Associate at the Federal Court of Australia, she hopes to enter legal practice as a junior lawyer after earning her graduate diploma.
Congratulations to the 2017 University medallists from the TC Beirne School of Law: 
Eloise Gluer | Bachelor of Laws (Honours)
Rebecca Morrison | Bachelor of Laws (Honours)
James Rigby | Bachelor of Laws (Honours)
Madeleine Ryan | Bachelor of Laws (Honours)
Media: Alysha Hilevuo, media@bel.uq.edu.au, +61 7 3346 9349.