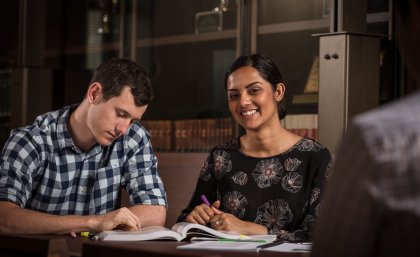 The University of Queensland is offering scholarships for up to 17 students from diverse backgrounds to study at UQ's internationally-renowned TC Beirne School of Law.

The Leadership, Excellence and Diversity (LEAD) Scholarship is aimed at students who live in rural or remote areas, come from low income or refugee families, identify as Aboriginal and/or Torres Strait Islander, or have faced illness or setbacks during their schooling.
Head of School Professor Patrick Parkinson said the scholarship was designed to make a UQ law degree more accessible to talented students who aspire to a career in the legal profession.
"One of the major hurdles for financially disadvantaged and regional students is the cost of living while undertaking a full-time degree," Professor Parkinson said.
"The LEAD Scholarship provides successful applicants with $8000 each year for up to five years.
"Beyond the financial support, LEAD scholars also benefit from dedicated academic mentorship and valuable internship and professional networking opportunities."
Launched in 2016, the scholarship has attracted outstanding applicants across the state, including from Redlynch in the far north to Biloela in Central Queensland.
Professor Parkinson said the School of Law had recently refocused its programs to create a more personalised and innovative experience for students by reducing the student intake and emphasising small group teaching
"Our highly collaborative learning environment and extensive co-curricular programs are designed to ensure every student has an opportunity to contribute to, and benefit from, being a member of the Law School community."
A $35 million refurbishment of the historic Forgan Smith building gives students access to state-of-the-art teaching and research facilities.
The LEAD Scholarships are funded by The University of Queensland Endowment Fund.
Applications are open from 6-31 August 2018.
Read more about the scholarship.
Media: Gemma Ward, media@bel.uq.edu.au , +61 7 3346 0700, +61 439 651 107.