The University of Queensland has claimed its second international mooting title for this year after winning the 19th International Maritime Law Arbitration Moot Competition (IMLAM).
The UQ team defeated the University of Hong Kong in the grand final last week at the Federal Court of Australia in Brisbane.
The championship title follows UQ's recent win at the 2018 Philip C. Jessup International Law Moot Court Competition in Washington, DC and is the fifth time UQ has won the IMLAM competition, which is organised by Murdoch University and was hosted by UQ this year.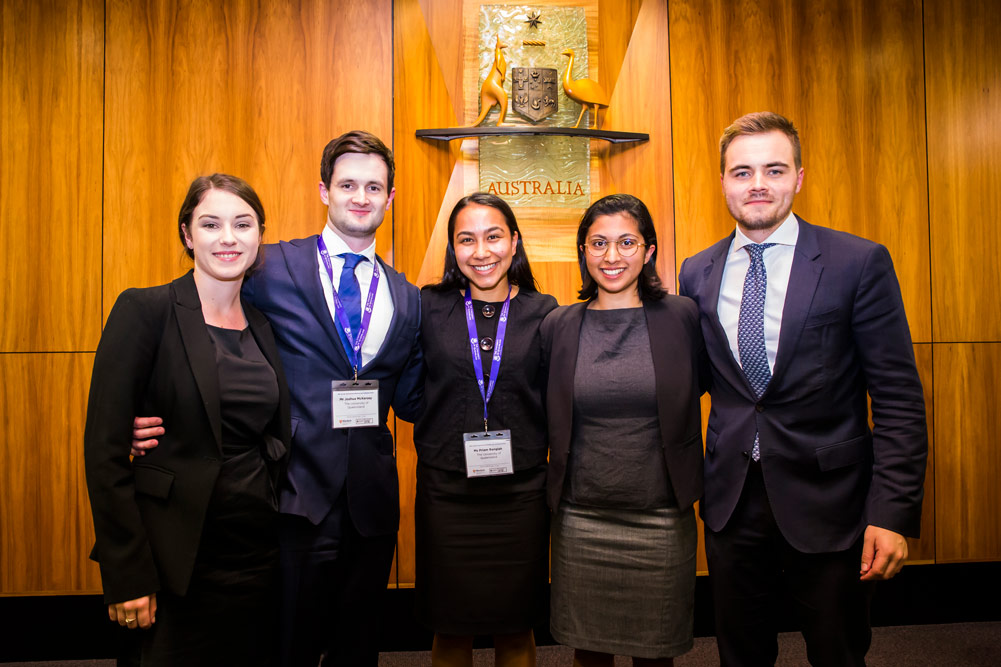 The winning team – UQLS President Sangeetha Badya, Laura Heit, Joshua McKersey and Priam Rangiah – was coached by recent graduate Dominic Fawcett and mentored by Professor Nick Gaskell.
TC Beirne School of Law Head of School Professor Patrick Parkinson said the team's hard work and months of preparation had been rewarded.
"I would like to extend my sincere congratulations to Sangeetha, Laura, Joshua and Priam, and thank Dominic and Professor Gaskell for their support and guidance to the team," he said.
"Mooting requires students to hone their research, advocacy and presentation skills, and our students have proven twice this year that they are the best in the world when it comes to demonstrating these highly sought-after legal skills.
"As hosts of this year's IMLAM competition, it was a wonderful opportunity to showcase UQ to visitors from 28 universities and 13 countries."
The team was also recognised through multiple awards including:
Best Claimant Memorandum
Best speaker in the General Rounds - Ms Sangeetha Badya 
Best speaker in the Final Rounds - Ms Laura Heit
IMLAM requires law students to work on a complex, realistic fact scenario involving a commercial shipping dispute.
Students start preparing for the IMLAM competition six months prior to the live event, working in teams to research the law and formulate memoranda to argue their client's case.
They then practise for the oral competition, where two opposing teams argue their case before a tribunal comprising experienced maritime arbitrators, members of the maritime industry as well as commercial and maritime lawyers.
The competition enables students to forge contact with students from other law schools and meet with senior members of the profession and maritime industry.
Students also learn about the field of shipping law and the practice of arbitration, while improving their written, oral and teamwork skills throughout the process.
Many of the students competing in IMLAM go on to secure employment at maritime law firms or as associates for Judges specialising in admiralty and shipping matters.

IMLAM is supported by the judiciary, law firms and maritime arbitrators, as well as organisations such as the Maritime Law Association of Australia and New Zealand; the Australian Maritime and Transport Arbitration Commission, and the Singapore Chamber of Maritime Arbitration.
Leading jurists have presided over the Grand Final, including senior judges from the highest courts in England, Hong Kong, Singapore and Australia.
Read more news about IMLAM at UQ
Media: Caroline Enright, + 61 3365 2596 or media@law.uq.edu.au