The Sir Harry Gibbs Constitutional Law Moot Competition is the most prestigious domestic moot Australia has to offer.
Participating in a year like no other, the representing team from The University of Queensland Law School secured the top 2020 prize, taking home a shared monetary prize and a spring in their step.
After a number of cancelled and 'reimagined' competitions in 2020, the mooting community at UQ had to pivot like the rest of the world and took their competitions online.
Triumph during a trying year
Bringing home the win for UQ for the 2nd time, were law students– Jackie Sung, Thomas Moore and Nick Wray-Jones.  Jackie, a 5th-year Bachelor of Arts/Laws (Honours) student, said she was elated the moment they announced the winners.
"Just before the results were announced, I took a deep breath because I felt so tense. Winning meant that our time and effort had finally paid off," she said.
"Between our personal lives and studies, the team persevered throughout the semester to build our arguments, even running oral submissions by each other between rounds."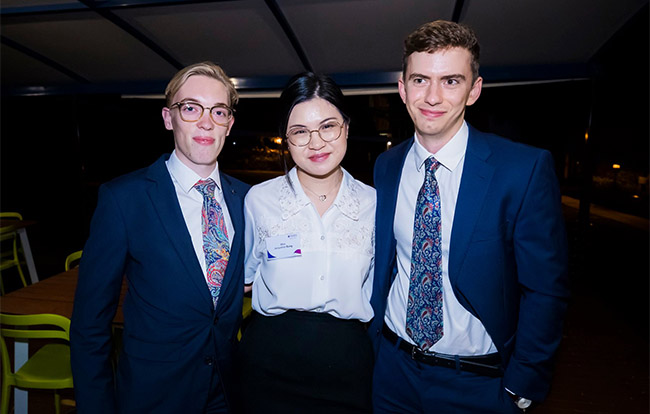 Taking place as a four moot round-robin, followed by knockout rounds, the Harry Gibbs competition maintains a format requiring strength of mind in addition to the extensive knowledge of constitutional law, and skill to articulate it.
Mooting competition tempers years of classroom learning
Final-year Bachelor of Arts/ Laws (Honours) student Thomas, said the competition helped develop his confidence in his presentation skills.
"Constitutional law was something I'd really enjoyed, but not done particularly well in," he said.
"Winning the competition, aside from the prestige of it, highlighted to me just how much I'd improved in understanding law, and developed my own unique style of advocacy."
"I learnt that trust and confidence are key. I struggled with oral submissions since I did not have as much experience, but the encouragement of my team and coach really pushed me to improve." - Jackie Sung.
Newly appointed acting Head of School, Professor Rick Bigwood congratulated Jackie, Thomas and Nick on their achievement.
"Mooting competitions such as this one provide an opportunity for students to develop their advocacy skills, and nurture strong relationships – further enriching their law school experience," Professor Bigwood said.
Nick, now a graduate of the UQ Law School, said winning the competition was the best way to end his program at UQ.
"Meeting my team members and coach, and getting more involved in the uni community, made my final semester memorable and enjoyable," he said.
"Winning the competition, aside from the prestige of it, highlighted to me just how much I'd improved in understanding law, and developed my own unique style of advocacy."
History of the Sir Harry Gibbs Moot
The competitive annual moot was named and established after UQ Arts/Law alumnus, The Right Honourable Sir Harry Talbot Gibbs (1917–2005).
Sir Gibbs was a 1939 graduate who served as a Major during World War II, before going on to practice as a Justice of the High Court from 1970 to 1981.  A position that subsequently named him as Chief Justice in 1981, for which he served until 1987.
Like the man himself, since its inaugural competition in 2002, the moot has maintained a noteworthy reputation of prestige among the law community for almost 20 years.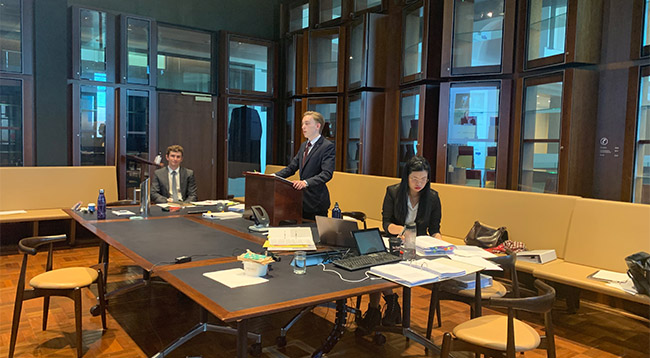 ---
Applications for the 2021 domestic mooting season are now open. For more information, visit the domestic competitions page. Or if you've been part of a team before, you can give back to the program by applying to be a coach or mentor. 
---