Four UQ students have taken home $10,000 after competing against 100 other students to win the 2021 #TransformLaw KWM Prize 
Their innovative solution, 'PEAM' – is an AI sentiment analysis tool that helps individuals better prepare themselves for the mediation phase of the family law process.
Often costing about $20,000, sometimes up to $300,000, family court is expensive and as a result, many individuals choose to represent themselves.
This can present a range of challenges to the legal system but also causes high emotions and stress for the self-representing litigants (SRLs) – often impacting the outcomes for individuals and families involved.
This unique issue was something the students were determined to tackle.
2021 #TransformLaw Winning team members
Grace Beattie (Bachelor of Science (Psychology)/ Bachelor of Laws (Honours)),

Félix Hall (Bachelor of Computer Science)

Leidi Peng (Bachelor of Commerce/ Bachelor of Laws (Honours))

Nelson Prichard (Bachelor of Politics, Philosophy and Economics (Honours))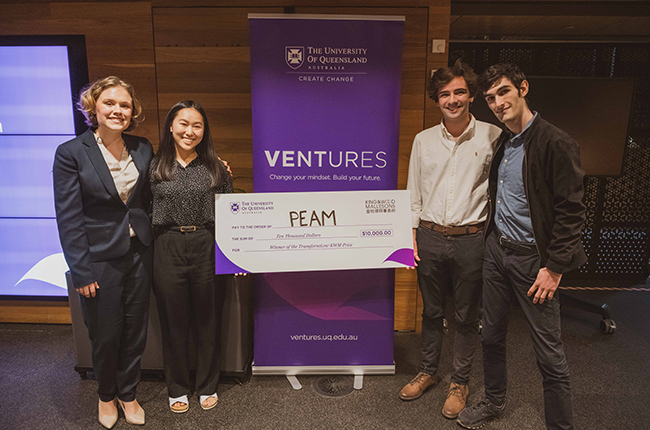 Bachelor of Commerce/Bachelor of Laws (Honours) student Leidi Peng explained that PEAM (Preparing Emotionally Aware Mediation) is a solutions-focused innovation that helps SRLs prepare for mediation in family law, enabling more meaningful and constructive solutions.
"After interviewing a wide array of stakeholders, we really empathised with these self-representing litigants," Leidi said.
"Many of them mentioned the stress and mental health issues resulting from the heavy workload and difficulty detaching emotions when problem-solving, especially after experiencing traumatic family breakdowns," she said
"We wanted to create something to truly support them and achieve better outcomes for everyone."
Bachelor of Science (Psychology)/ Bachelor of Laws (Honours) student Grace Beattie said PEAM makes mediation cheaper and more accessible, leading to stronger solutions for families.
"40 per cent of family law cases are resolved through mediation and the other 60 per cent either are settled in court or the parties simply run out of money or get sick of the process," Grace said.
"That's why it's so important to help parties reach strong and lasting agreements through mediation. They don't want to end up back in the system."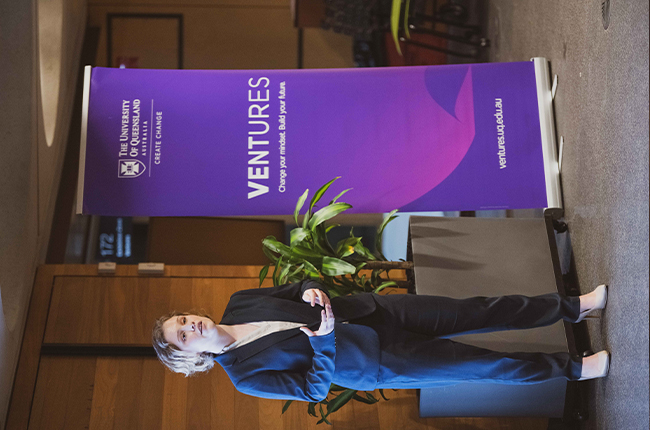 About the tool
Through the use of AI sentiment analysis,  PEAM allows individuals to break down and understand their legal duties.
"By attempting to take the stress and high emotions out of the discussion, PEAM helps litigants engage thoughtfully, and achieve workable outcomes," Grace clarified.
"Users are prompted to address about half a dozen questions under a number of umbrella parenting agreement issues," she said.
"PEAM then uses artificial intelligence to read the user's answers and test them for negative and emotional sentiments. If the wording is too aggressive or negative, the user is prompted to rethink their wording.
"This process repeats until the response reaches an emotionally neutral point.
"Once the user finishes working through the function, they will have clear, persuasive and emotionally neutral arguments ready to take into their mediation session.
"This helps SRLs feel prepared and calm – and subsequently more likely to engage in meaningful outcome resolutions."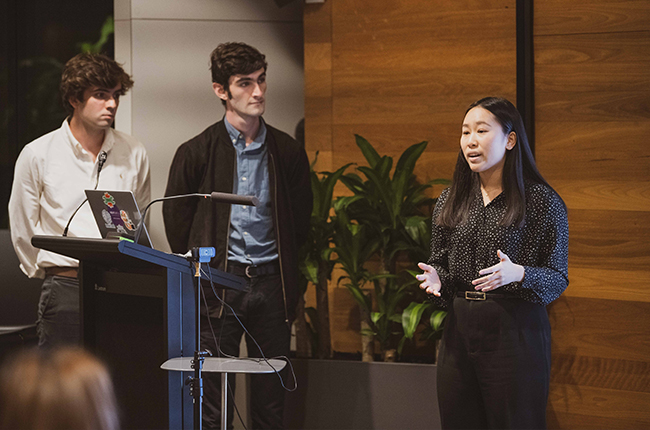 A modern law school competition 
#TransformLaw is a UQ Law School and King & Wood Mallesons initiative that encourages UQ students from varying disciplines to provide technological solutions to the legal problems.
The eight-week incubator-style program is delivered by the Ventures team at UQ and was first established in 2019.
Students are provided with mentors, often who are legal practitioners, to guide the team through the prototyping stages of their idea.
"The mentors provided a strong and diverse range of expertise," said Bachelor of Politics, Philosophy and Economics (Honours) student Nelson Prichard.
"They allowed us to screen our assumptions and iterations of the prototype," he said.
"Reaching out to other stakeholders and experts such as Jacqui Griffin from Family Law Assist, Andrea Perry-Peterson and Patrick Parkinson allowed us to really deepen our research, resulting in a better understanding of family law."
Initially, the winning team considered building PEAM to help take the emotion out of court presentations and cross-examinations, but it was identified that by targeting mediation instead, they would have a greater impact.
The power of diversity 
During the eight-week period, students experienced working with others from vastly different disciplines.
Collectively the team was made up law, computer science, economics and psychology students.
"I really enjoyed the diversity within my team and don't think we would have done as well otherwise," said Bachelor of Computer Science student Félix Hall.
"Applying a diversity of thinking and critical analysis to the prototyping stages was imperative.
"It required constant acknowledgement of one's limits and assumptions, and applying a different perspective. In this way, having a diverse team was crucial."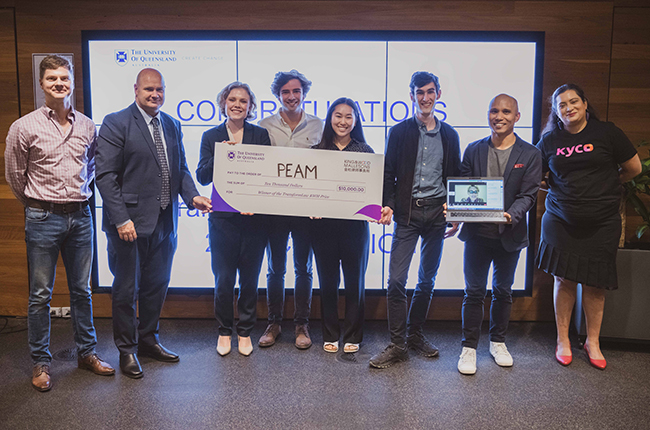 Contact: BEL Communications Team, communications@bel.uq.edu.au