The Aurora Native Title Internship Program places law, anthropology and other social science (archaeology, cultural heritage, environmental management, human geography, history and sociology) students and graduates from Australian universities at Native Title Representative Bodies (NTRBs), Prescribed Bodies Corporate (PBCs) and other organisations involved in policy development, social justice, human rights, all with an Indigenous focus. The program introduces candidates to career opportunities in native title and Indigenous affairs more generally and at the same time provides assistance to under-resourced and over-worked organisations.
Applications are generally open during March (winter internships) and August (summer internships)
Lindsay Collins
UQ Bachelor of Laws (LLB) student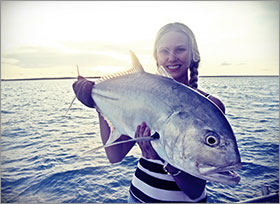 "Courts, clients and crocs"
Landing at a tin-shed airport after a turbulent light aircraft journey is not the usual start to a business trip, but such is the life of a lawyer on the Bush Court Circuit in the Northern Territory. Bachelor of Laws student Lindsay Collins got a taste of this lifestyle while completing an internship with the criminal section of the North Australian Aboriginal Justice Agency (NAAJA).
NAAJA works to deliver high-quality and culturally appropriate Aboriginal legal services to the Top End. It lobbies against areas of systemic disadvantage faced by Aboriginal people in the justice system: Indigenous people comprise roughly 30 per cent of the population in the Northern Territory, yet represent more than 80 percent of the Territory's prison population. Lindsay's five-week internship was based in NAAJA's Darwin office, but she was also able to travel to bush courts at Daly River and the Tiwi Islands, which are a 20-minute flight from the mainland.
"Once I arrived I realised why the lawyers had laughed when I asked how I would find them at the airport," she said. The bush courts are unique to the Northern Territory and consider matters which would normally be heard in a Magistrates Court.
While at Daly River, located approximately 210 km south-west of Darwin, Lindsay was able to witness a community court hearing, where Indigenous elders have an opportunity to comment on the proceedings and suggest ways of reintegrating the accused into society.
"There was also a crocodile in the local swimming pool whilst I was at Daly River!" she said.
The placement was coordinated through the Aurora Native Title Internship Program, which introduces anthropology, law and social science students and graduates to career opportunities in native title, policy, social justice and Indigenous affairs.
The Aurora Project aims to provide assistance to under-resourced and over-worked Native Title Representative Bodies (NTRBs) and Native Title Service Providers (NTSPs), Indigenous corporations, government bodies, community groups, and not-for-profit and policy organisations.
The School of Law has been involved with the project since 2008 and lecturers actively promote the scheme to students. Since the Aurora Native Title Internship Program began, UQ students from the disciplines of law, business, anthropology and social science have participated in placements at many different organisations.
While completing the internship, Lindsay was also able to explore some of the Northern Territory's tourist attractions, including Litchfield National Park, Kakadu National Park, and went on a jumping crocodile tour on the Adelaide River.
"I thoroughly enjoyed my internship; it was such a unique learning experience which has made me reconsider my future career path," Ms Collins said.
"The Aurora Native Title Internship Program also helps to facilitate integral respect and understanding for the unique complexities of different people's cultures."