ODPP Work Experience Placement Program
The ODPP WEPP offers students the opportunity to gain direct experience in criminal law.  Students interested in applying for the WEPP must have a genuine interest in criminal law, demonstrate they can work both in a team and autonomously, have highly developed written and oral communication skills and are in at least their second year of a law degree or are completing Practical Legal Training (PLT). 
The ODPP has the ability to host students in a number of locations including Brisbane, Beenleigh, Cairns, Ipswich, Maroochydore, Rockhampton, Southport, Toowoomba and Townsville.
Each program is 4 weeks with students attending Monday to Friday during business hours.
Preference is given to students who are nearing completion of their studies and have an interest in working in criminal law at the ODPP. 
The program offers students the opportunity to:
Experience the professional environment of one of the largest criminal law practices in Australia.
Gain a comprehensive understanding of the ODPP and its role and functions within the criminal justice system.
Work alongside and learn from some of the most senior and experienced criminal lawyers and barristers in Queensland.
Gain an insight into 'real' criminal cases before the courts.
Be involved in a range of activities – from opening and closing files, preparation for mentions and callovers, to accompanying Crown Prosecutors to court.
Gain skills through professional development opportunities, assess their own performance and gain an insight into their 'professional self'.
WEPP format:
The ODPP is a four week, full-time placement.
Students will be allocated to a chamber (in a work unit in either Brisbane or a regional location) for the duration of their placement.
Students are provided with a WEPP workbook to guide and support the placement. The workbook identifies key learning objectives to be achieved throughout the placement.
Students are expected to be proactive and embrace the opportunities provided to them and identify their own learning outcomes.
The Office of the Director of Public Prosecutions intends to host three WEPP intakes this year held over Winter, Spring and Summer.
Please note that recent COVID restrictions have put the Summer placement dates under review. More information will be provided when available. 
| Intake | WEPP Dates | Applications close |
| --- | --- | --- |
| Winter | 27 June 2022 – 22 July 2022 | 8 April 2022 |
| Spring | 29 August – 23 September 2022 | 29 July 2022 |
| Summer | TBA | TBC  |
Travis Irons
Bachelor of Arts/Bachelor of Laws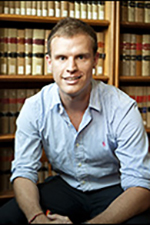 "I applied for this internship primarily because of my keen interest in criminal law. I enjoy the study of criminal law, and I am also very passionate about making a positive change in the community by helping in the fight against crime. The ODPP internship was a great opportunity to put my studies to practical effect.
During my internship I worked as a Legal Support Officer with the primary role of assisting the Legal Officers and Crown Prosecutors. This consists mostly of appearing as a clerk in court and organising evidence and case files. The role also encompasses tasks such as legal research, liaising with police officers, issuing subpoenas, drafting indictments, and assisting the Crown Prosecutor with trial preparation. I found that my studies had somewhat prepared me for these tasks, but I still had much to learn by way of practicality.
I particularly enjoyed the fact that I was able to engage in all stages of a trial from start to finish, whilst being able to work alongside the Crown Prosecutor. This really helped me to develop an understanding of trial from a Crown Prosecutor's perspective.
This internship taught me that there is a big difference between law in theory and law in practice. Studying law at university and then learning how to actually put that knowledge to practical effect in a courtroom was very satisfying.
This experience has given me a great boost in my future career plans. Should I choose to practise criminal law, I really have got my foot in the door and have already made so many professional contacts."