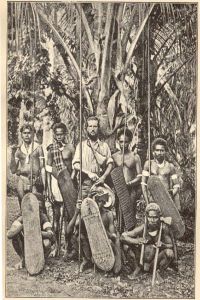 The following simple rules are a guide for members:
SIIN has the potential to be a service that combines reports, bibliographies etc. related to Solomon Islands, and also make provision for limited comment/annotation.
People making postings are individually responsible for the accuracy and authenticity of their postings. Send any information or attachments for inclusion first to the SIIN Moderator, Clive Moore, who will check it for relevance, for file size and for viruses. This is very important, as computer viruses are easy to spread but hard to remove. We need to be especially careful to protect colleagues in situations where they may not be well prepared to deal with computer virus infections, and must always be conscious of limits on download speed in the Solomons.
Please remember that some members with limited email access (Hotmail & Yahoo etc.) have problems downloading large files, and even Broadband can be very expensive in the Solomons. If files are short (ie., 1 to 4 pages) they can be inserted into text as well as sent as attachments, allowing SIIN users to choose how they are viewed or downloaded. If files are already available on a web site, it is better to just give the URL reference and allow members to choose whether they want access or not. It would be useful if members who are offering papers in e-form would prepare and provide short summaries that can be transmitted by email.
SIIN will be largely unmoderated. This means that no one's postings will be censored or otherwise edited—though in the event of the network manager identifying an item that has potential to give offence he will discuss this item with the originator before disseminating it. Please remember, however, that people cannot see your face nor hear your tone of voice as you write. It is easy in this milieu to misunderstand or misinterpret what one meant to say in a quick note. If your note gets misinterpreted and gets an annoyed response, consider the possibility that you could have been clearer in your writing. If you are offended by what someone has posted, you are free to respond to it as you will, either privately or on SIIN or by simply deleting the post from your files. Consider that you might be better to reply personally to the individual, rather than to the entire SIIN. Gentility is always appreciated in any debate, particularly in contentious issues.
SIIN will not tolerate use of the list for attacks, maliciousness, or advertising without permission. Offenders will be warned, and repeated offense thereafter will result in the offender(s) being barred from the list.
SIIN is not intended to be accessed by the media or governments (other than in Solomon Islands); however, there is no way of preventing members bouncing material to any one they choose. Please be responsible in using any material or comments posted on SIIN.
Should you wish to make reference to a posting that you read on SIIN, first consider whether the message was intended for widespread distribution, and contact the author for permission. Postings can be considered a form of published document, but remember to check with the author first as he or she may not have intended it for that purpose.
Most of the material should be oriented to Solomon Islands, but this should not preclude associated material that might interest members.
If you want to join SIIN, contact Clive Moore. You will be asked if you have any institutional affiliation (not essential) and to write a short description of your background (no more than 50 to 100 words, or less if you are shy). The list is much more useful if you are clearly identified. If you find that your name appears on the list with no explanatory bio-date, I would appreciate your supplying some. 
 
Clive Moore
The University of Queensland
22 May 2012
c.moore@uq.edu.au