UQ Law School students were recognised for their outstanding contributions to pro bono legal service at the recent UQ Law Awards.
More than 100 students who had participated in projects organised via the UQ Pro Bono Centre over the past year were invited to celebrate their achievements in person at Customs House.
The Pro Bono Centre offers flexible and diverse pro bono activities to all UQ law students interested in volunteering for community-based initiatives. Activities include casework, legal research, community legal education, law reform and policy work.
2020 Pro Bono Publico Award winner announced
The UQ Law Awards ceremony was also an opportunity to celebrate the achievements of UQ law graduate Sarah Hamid, who was named winner of the 2020 Pro Bono Publico Award.
The Pro Bono Publico Award recognises and celebrates one graduating student each year who has made an exceptional contribution to the community through their pro bono legal work.
During her studies, Sarah undertook an outstanding number of roles through the Pro Bono Centre's Roster, reflecting her dedication to increasing access to justice for marginalised people in Australia.
Sarah was also an enthusiastic participant in the Pro Bono Centre's longstanding programs, presenting to Brisbane high schools through the Law Education and Outreach program, undertaking law reform and policy research through the Manning St Project, contributing to the UQ Deaths in Custody Project, and completing a placement with LawRight in the Clinical Legal Education program.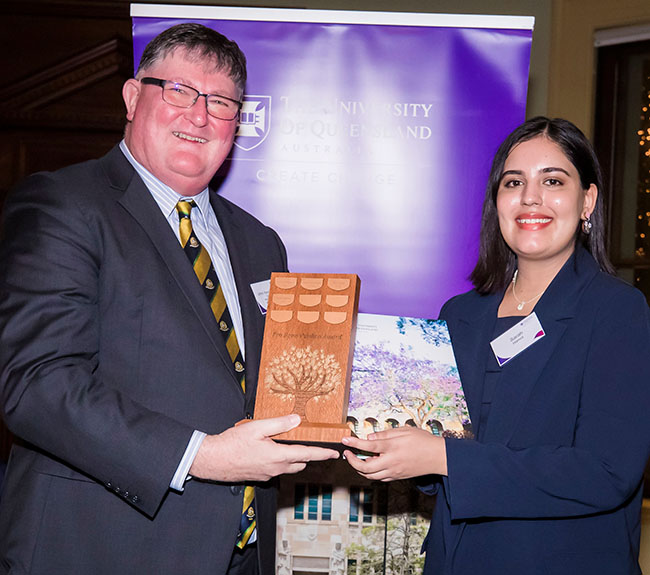 A strong advocate for the interests of asylum seekers and refugees, Sarah demonstrated her passion for improving access to justice through several leadership roles. Notably, Sarah was a representative for the pro bono student body at UQ as an active member of the Centre's Student Advisory Panel.
"Participating in the range of public interest law opportunities offered by the Pro Bono Centre has been a privilege and a highlight of my time at UQ.

Through the Centre, I have learned from and assisted social justice lawyers and volunteers in practice, completed law reform and policy research projects with expert academics, and helped to organise and manage educative community and professional events.

I encourage all students to put yourself forward for the short and long-term activities on the Roster, the Clinical Legal Education course and the international study opportunities. You'll be working for the public good, providing direct access to justice for those in need, building strong peer and professional networks, and gaining valuable legal insights and skills to inform your careers."  - Sarah Hamid, 2020 Pro Bono Publico Award winner
The Pro Bono Publico Award, funded by a generous alumnus donor, comprises a $500 grant to go towards the registration fee and associated costs of attending a national conference relating to access to justice/pro bono matters.
Nominations for students graduating in 2021 are open until 28 November. More information is available on the UQ Pro Bono Centre website.
The 2021 award winner will be announced at the UQ Law Awards ceremony in 2022.