Your guide to the #TransformLaw KWM Prize competition from the 2020 winners
Written by Abinaya Ketheeswaran (Bachelor of Commerce/ Bachelor of Laws (Honours), Anastasia Laczko (Bachelor of Engineering (Honours)/ Bachelor of Information Technology), Melanie Karibasic (Bachelor of Arts/ Bachelor of Laws (Honours)) and Tristan Latcham (Bachelor of Commerce/ Bachelor of Laws (Honours)).
In the tumultuous year of 2020, our team competed in the #TransformLaw KWM Prize competition. This competition challenged us to think innovatively, connect with experts in the law and tech field, and build the foundations of our startup idea, Elysian – a digital marketplace to list and find pro bono opportunities. After six weeks of mentoring, we were fortunate enough to receive first place and the $10,000 prize for Elysian.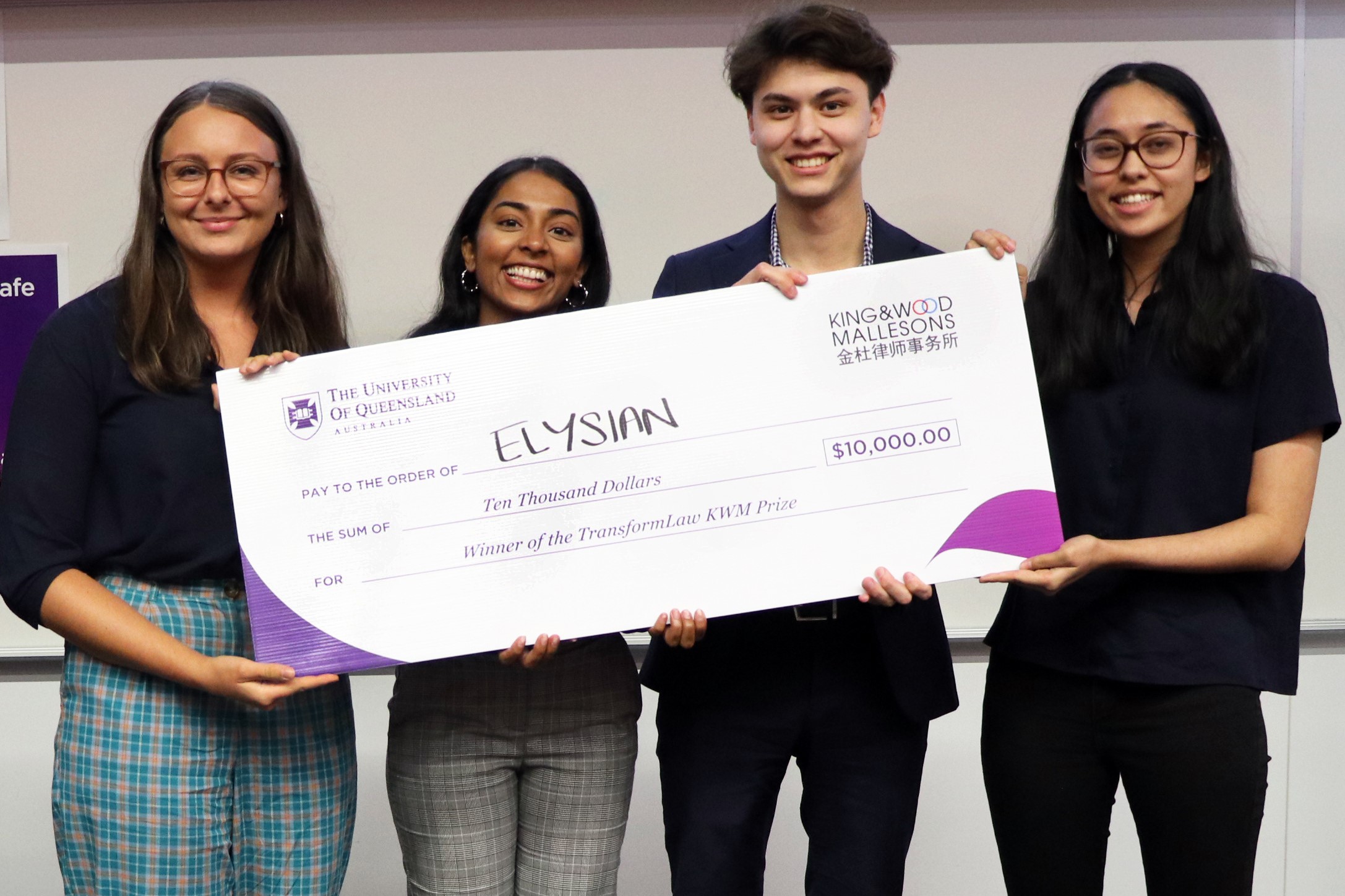 In this blog, we discuss everything you need to know about the #TransformLaw KWM Prize competition, including why you should enter and our top tips for competitors in the 2021 round.  
Three reasons why you should enter the #TransformLaw KWM Prize competition
There are many reasons to enter the competition; however, we will only delve into the top three.
1. Grow your network
The first, and perhaps most attractive reason, is the number of people you will meet and connect with throughout the competition. Not only will you forge new connections with your team members and competitors, but also the mentors, staff and active members in the legal and technology sectors.
2. Learn the art of pitching
In terms of professional self-development, you will learn how to pitch a product in an encouraging yet competitive environment. This is a skill that is rarely trained or developed – yet a skill that is so fundamental to a successful career in many industries. We pitch ourselves to future employers, potential clients and even to our network of colleagues and friends. The skill of pitching transcends the startup world.

#TransformLaw provided us with the opportunity to cultivate our pitching skills prior to entering the workforce, empowering us to learn from an inspiring panel of judges and a whole community of competitors. You will learn how to harness your public speaking, marketing and business skills, and constructive feedback is available every step of the way.
3. Work with students from other disciplines
Working within an interdisciplinary team was fantastic because it really showcased that everyone has their own skills, insights and abilities they can bring to the table. In our team, Tristan, who has a background in commerce, was able to make a strong contribution to the financial aspect of the project. Abi and Melanie both work in the pro bono sector and were able to provide insights into the culture and nature of pro bono work in the legal profession. On the other hand, Anastasia was fantastic with the 'tech' side of the project and was crucial to the development of our prototype.
What you can expect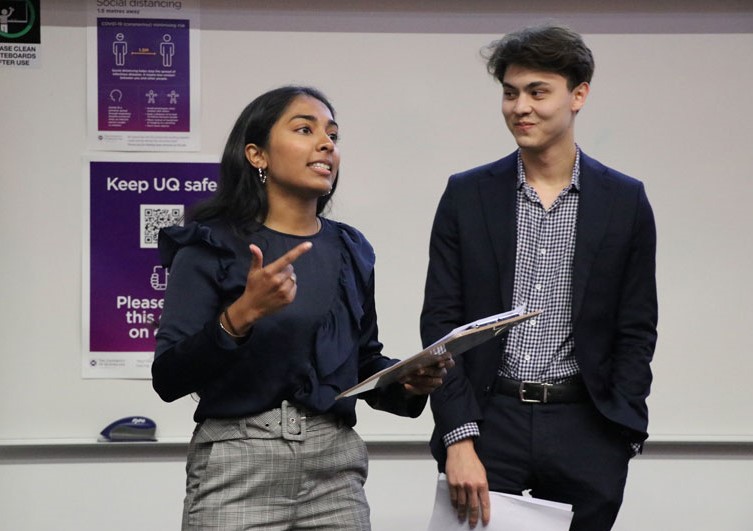 There are standard time commitments you can expect in the lead up to the pitching night. Your team is expected to attend weekly workshop sessions, often held in the evening. The evening sessions encompass workshops such as 'date night' and user identification, rapid prototyping, mentoring night and pitching practice and demo night.
Outside of these scheduled hours, you should aim to meet with your team at least once a week to apply what you have learnt or have been asked to do in the evening sessions. You will also need to allocate time to meet with mentors and perhaps your own professional network to discuss your team's product outside these sessions.
Our top tips for 2021 #TransformLaw KWM Prize competitors
If you're thinking about competing in the 2021 round of the competition, we have a few pieces of advice to help you make the most of the experience. 
Leverage the expertise of mentors
Part of the value of the competition is the mentoring you will receive from high-calibre industry experts – many of whom have launched their own successful businesses. Use this excellent network of people to validate your ideas and be open to their advice to help ensure your idea becomes a sustainable business.
Perfect your business model
A common mistake people make in accelerator programs is devising a great idea but then not putting much thought into how they are going to generate revenue as a business. To avoid this, participants in this competition are encouraged to show a robust understanding of the business model they will use to transform their idea into an operational, scalable business.
Think outside the box
It is almost guaranteed you will encounter problems when developing your ideas, but that is to be expected in your efforts to disrupt the status quo. Top participants will be able to overcome these problems by remaining flexible and thinking through issues from multiple angles.
We hope that our insights and tips prove to be valuable. To the 2021 competitors – good luck and get thinking!