Safeguarding coastal ecosystems and property
From blue carbon to coastal ecosystems – the important legal balancing act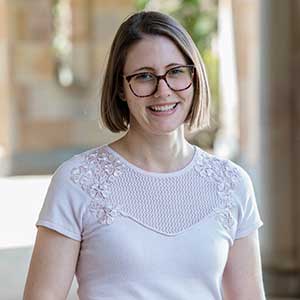 For a legal expert with no formal scientific training, Justine Bell-James is certainly at ease discussing the intricacies of climate science.
"A big part of my work is looking at what my science colleagues think should be done for climate change and helping them navigate the legal hurdles – it's been a learning curve over the years," says Associate Professor Bell-James, who is also an affiliated researcher with UQ's Centre for Biodiversity and Conservation Science.
The major focus of Dr Bell-James's research is protecting Australia's natural coastal ecosystems from climate change, which is a delicate and important balancing act.
She has undertaken impactful work through the UQ Law School in partnership with global environmental organisation The Nature Conservancy to find a legal balance between the long-term need to safeguard and leave space for coastal wetlands, and immediate land use.
"Wetlands like to exist at a very particular part of the coast – the intertidal zone, which is sometimes wet, sometimes dry. As sea levels rise, they can potentially migrate inland to keep pace and remain in the intertidal zone."

To do this, their root systems need space to extend inland, but if structures or land use prevents this, migration can't happen and the ecosystems are lost."
Adapting land use over time
"I've worked with The Nature Conservancy to design a flexible legal approach to balance farmers and property owners using the land in the short term but adapting their land use over the medium to long term to help wetlands migrate inland."
Blue carbon credits
The Australian Government's Clean Energy Regulator also tapped into her skillset, engaging the legal expert to help develop a methodology for including blue carbon – the carbon stored within coastal ecosystems – as an eligible offset project.
"Marine ecosystems like mangroves and saltmarsh occupy a contested legal area between public and private ownership. My work centred on identifying and removing legal barriers to not only preserving and restoring them but accessing carbon credits for doing so," she says.
"Blue carbon was finally approved as part of Australia's climate change framework in January 2022, so people can now apply for accreditation for some coastal wetland restoration projects – and ultimately obtain carbon credits."
The urgent and holistic nature of Dr Bell-James's work sees her contribute to interdisciplinary research projects and collaborate with colleagues from science, industry, NGOs, government and legal practice.
Impacting policy and decision making
Dr Bell-James is currently contributing to blue carbon research projects funded by CSIRO and the Great Barrier Reef Foundation. The legal expert is also translating her research into real-world applications as an advisor to the Whitsundays Regional Council's Climate Change Innovation Hub and the Victorian Marine and Coastal Council.
"One of the most satisfying things in the area I work in is to see the direct impact my research has on policy and decision-making.
"Seeing my research translated into practice makes my job really exciting and meaningful."
Contact us at research@law.uq.edu.au to find out how you can work with experts like Justine toward a sustainable future
Discover more about how we can partner together to find solutions to the issues important to you and your organisation.