Are you new to UQ Law? We've put together our top recommendations for starting your law journey with us.
Take a look at the comprehensive checklist below and step through the tasks that appeal to you. The checklist highlights several ways to get involved and take the pressure off in your first year, as well as some considerations that we recommend you keep in mind earlier rather than later.
Attend a court visit
During your first year, new students are directly invited to attend a unique tour of the Supreme Courts of Queensland. On the tour, you'll be introduced first-hand to the Queensland legal system and get to meet some notable judges and barristers. Usually, this tour is the first touchpoint into the profession for commencing law students – and often it helps with settling first-year nerves. If you missed out, let us know, and we can squeeze you in the following year.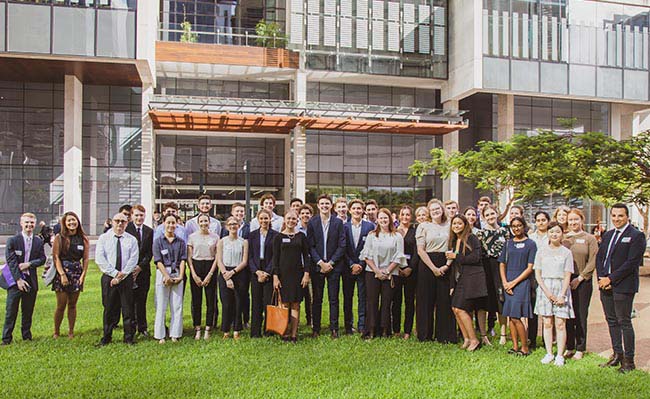 Look out for Law Student News
As you continue with UQ Law, we'll be in touch regularly via our student communications email, Law Student News. There's no need to subscribe; we'll come to you.
You'll receive a number of highlights directly to your inbox, including upcoming events, scholarships, prizes, society news and more. Plus, if you've got something other law students would want to know about, you can request we share it via our online submission form.
Discover The Hub
The Hub is your online bulletin board full of the latest news and events, just for current UQ law students. Job opportunities, podcasts, events, recent articles and more are all housed on The Hub in a short, snappy format making the wealth of opportunities available to you that little bit easier to digest. Be sure to check back regularly as we make updates every day.
Develop skills to care for yourself
Sharper Minds is a package of resources for first-year UQ Students' physical and mental health so that you can achieve your best at University. Co-designed by UQ students and researchers from the HABS faculty, they give you the tools to prevent mental health problems from developing. These resources target 6 domains: study, mood, physical activity, healthy eating, sleep, and social connection, providing you with a holistic view of staying well during your studies.

Join a society
Student societies on campus offer a diverse range of extra-curricular activities, including events and sporting matches. At UQ there are four law societies you can join, each boasting an inclusive and like-minded community to connect with.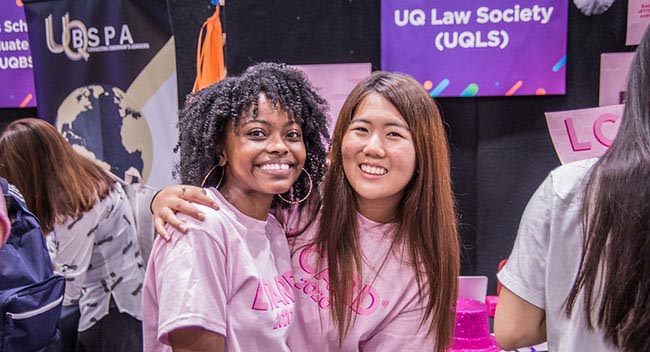 Discover the L Card
Founded by The University of Queensland Law Society (UQLS) in collaboration with other universities, the L Card is one of Queensland's largest discount cards. The L Card will save you money on things like cafés, movie tickets and more. Please note, you don't need to be a member of UQLS (or even studying law) to purchase an L Card; however, you'll become a member by completing the transaction.
Get to know your BEL Careers and Employability
As a law student, you're part of the Business, Economics and Law Faculty (BEL for short). As a Faculty, we're lucky to have a dedicated team of Career Advisers to help with all things related to your employability and career development. The BEL Careers and Employability team offers a range of support services and programs to help you understand and plan your pathway, events and workshops to boost your skills, internship and industry engagement opportunities, and more. Planning for your dream career should start in your first year – how you design your UQ experience will help support your long-term career goals. The team have a dedicated program to assist first-year students in navigating the months and years ahead to make sure you get ahead and start developing the strong skills and networks demanded by the profession. We recommend you reach out and discover their services as soon as you can, and hit the ground running.
What's it like to study law?
UQ Law student Ella North shares what it's really like to be a law student and provides some useful tips for how to not only survive but make the most of your first year (and remaining years!)
Find a Buddy
Starting law at UQ can be an overwhelming experience. First years initially receive a lot of information on a range of new things – from ratio decidendi to eduroam. Luckily, there are programs designed to pair you with a buddy who has done it all before! Find your own buddy by reaching out to the UQLS Buddy Program.