The University of Queensland Law Journal
The University of Queensland Law Journal is one of Australia's premier law periodicals. Established in 1948, it is arguably the oldest university law journal in Australia.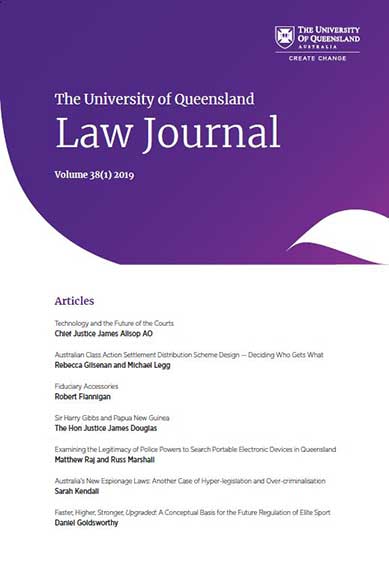 The Journal's Editorial Committee comprises of an international panel of academics to ensure the Journal's high quality is maintained. Editorial control rests with an academic editor of the School of Law at The University of Queensland.
The Journal is published twice a year, with a general edition appearing in July and a thematic edition in December.
The Journal publishes articles on all areas of law, in addition to casenotes, book reviews and legal comments. The Journal has also, on occasion, produced symposium editions dedicated to a particular aspect of law. Past symposium editions of the Journal have focused on the Mabo decision and the republican movement of the late 20th Century.
Full-text online
Search and read full-text articles of previous editions via Austlii.