The University of Queensland Law Journal
The University of Queensland Law Journal is one of Australia's premier law periodicals. Established in 1948, it is arguably the oldest university law journal in Australia.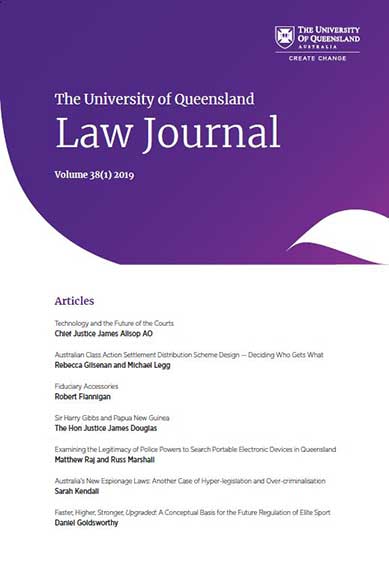 The Journal's Editorial Committee comprises of an international panel of academics to ensure the Journal's high quality is maintained. Editorial control rests with an academic editor of the School of Law at The University of Queensland.
The Journal is published twice a year, with a general edition appearing in July and a thematic edition in December.
The Journal publishes articles on all areas of law, in addition to casenotes, book reviews and legal comments. The Journal has also, on occasion, produced symposium editions dedicated to a particular aspect of law. Past symposium editions of the Journal have focused on the Mabo decision and the republican movement of the late 20th Century.
Full-text online
Access current and recent issues online.
Visit The University of Queensland Law Journal
Search and read full-text articles of previous editions via Austlii. 
The Journal welcomes submissions on all areas of law from academics, legal practitioners and law students. The Journal aims to publish significant works of scholarship that make an original contribution to different fields of law, including all areas of domestic, international and comparative law, as well as jurisprudence, legal history and the intersection of law with other disciplines.
The Journal is controlled by an Editorial Board. Every article, comment, casenote and book review submitted for publication is subjected to a formal process of double-blind peer review.
Submission requirements
A manuscript should not exceed 10,000 words and should be an unpublished work which is not being submitted for publication elsewhere. The manuscript should be typed, doublespaced and on one side only of A4 sized paper. Contributors are also requested to supply a copy of their manuscript in Microsoft Word format. Style and referencing of submissions should conform to the house style outlined in the Australian Guide to Legal Citation. An abstract of not more than 120 words should be included on a separate page.
Copyright of articles published in the University of Queensland Law Journal is vested jointly in the Journal and the contributor. Apart from any fair dealing for the purposes of private study, research, criticism or review, as permitted under the Copyright Act 1968 (Cth), no part may be reproduced without written permission.
Submission deadline
Submissions for the July issue of the Journal must arrive no later than 30 March each year and for the December issue by 30 September. Submissions should be sent by ordinary mail to:
The Business Editor
The University of Queensland Law Journal Committee
School of Law 
The University of Queensland 
St Lucia, Australia, 4072 
E-mail to: Professor Rick Bigwood
Issues of The University of Queensland Law Journal may be ordered directly from School of Law at the following rates:
| | |
| --- | --- |
| Institutions/Libraries/Individuals | AUD$95.00 |
| Overseas Airmail | AUD$155.00 |
| Back Issues per single issue (AUST) | AUD$60.00 |
To subscribe to the journal or purchase previous editions, contact:
The University of Queensland Law Journal
School of Law 
The University of Queensland 
St Lucia, Australia, 4072 
Email: law@uq.edu.au