The  School of Law working in partnership with The University of Queensland Law Society (UQLS) is committed to providing students with the highest standard of legal education to equip them with the skills to successfully practice their profession in a dynamic and demanding environment.
Our moot teams, coached by academic staff and alumni of the mooting program, achieve tremendous success in local, national and international mooting competitions.
What is mooting?
Mooting is the oral presentation of a legal (and sometimes factual) issue or problem against an opposing counsel and before a judge, tribunal member or arbitrator. It resembles the experience that a student can expect to have in a court, tribunal or in arbitral proceedings, after qualifying as a lawyer.
Mooting can enhance your employment opportunities as a legal professional, help to build confidence in public speaking and assist in developing research, and presentation skills. In other words, mooting experience can benefit every student whether or not they plan to pursue a traditional legal career after graduation. Students who have mooted in the recent past have found the experience to be one of the most challenging and rewarding elements of their legal studies at The University of Queensland.
The mooting process
Once selected, moot teams meet with their coaches and begin preparation of written memorials or submissions. For the external moots there may be a period of several months during which scenarios are researched and written submissions prepared – teams benefit from library privileges, including extended borrowing rights, after-hours access and a dedicated study room.
After submissions or memorials have been lodged an intensive practice mooting period begins with teams appearing before benches composed of academics, practitioners, alumni, senior mooters and retired judges.
After practice moots team coaches generally conduct intensive de-briefing sessions to analyse the team's mooting performance and style and assess the arguments presented. Finally, the teams travel to local, national and international venues for their competitions and to compete against other universities.
Mooting triumphs
In 2019, UQ was proud to claim the International Maritime Law Arbitration Moot title for the second consecutive year. Law students competed in a complex scenario involving a commercial shipping dispute in the five-day competition in Rotterdam, The Netherlands.
UQ Law's Tessa Boardman, Jonathan Hohl, Matt Singer and Mia Williams, and UQ alumnus and coach Leo Rees-Murphy, beat 30 other teams to win the coveted title.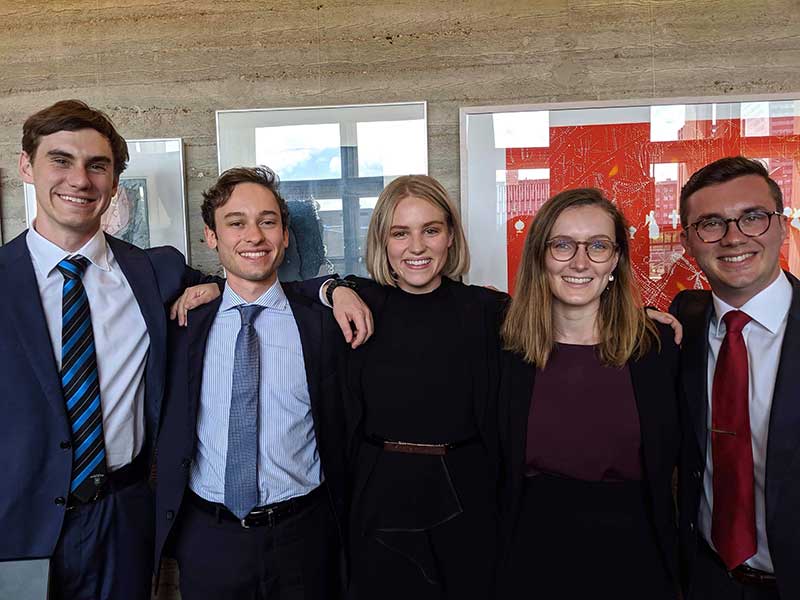 In April 2018, the School's Jessup mooting team – Samara Cassar, Hennie Lui, Julius Moller, Claire Robertson and Edward Watson – travelled to Washington D.C. for the international rounds of the 2018 Philip C. Jessup International Law Moot Court Competition, the largest and most prestigious moot in the world. Our team was victorious, beating more than 600 teams from around the world to be crowned champions for 2018. This is the third time UQ has won the competition. 
Hear what law students say about the moot team experience.